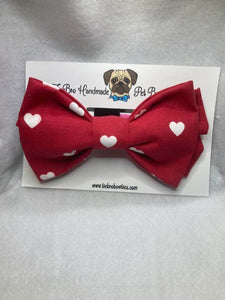 red and white raised textured cotton Valentines pet bow with velcro closure 
Simply velcro bow tie around pets collar ( collars are not included ). If you do not have a collar please message us and we will include 2  super soft nylon bands to be used.
ONE SIZE FITS MOST 】- the nylon loop will fit all ages from pup/kitten to Adult! Diameter before stretching : 4" 10cm , Diameter after stretching : 12" 30cm,Width : 1/3 " 0.9cm.